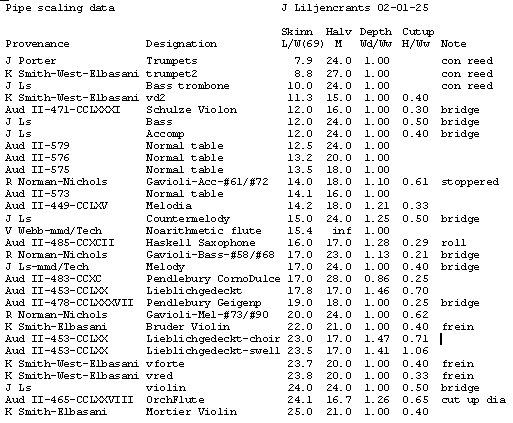 Aud II stands for Audsley: Art of organ building, vol 2. Page and figure numbers.

J Ls is for various ranks in my own organ.

Other entries are names in a tradition chain, to the extent I am aware. Here generally the last name indicates who posted the background data to this Forum.

All parameters in the table are dimensionless, they give ratios between measures. This means they are the same, no matter you use inches or millimeters.



W

d/

W

w is the ratio of internal widths: depth/width. 1.0 means square pipe. For the non-square pipes I used

W

=sqrt(

W

d*

W

w) in the expression for skinniness (width of a square, having the same area as the rectangle).



H

/

W

w is the cut up as fraction of the (mouth=internal) width.


There is no data on the air band thickness. This has to be determined separately; a main additional factor is then the blowing pressure. About this, refer to http://www.mmdigest.com/Tech/isint.html

There is a large number of factors, additional to L/W and M, that determine what the pipe will finally sound like, those controlled in the voicing. To mention a few:
- Pressure and airband thickness influence power level. Pipe pressures can be individually set by toe holes or foot throttles.
- Languid or cap adjustment control airband direction, speech onset, and spectral composition.
- Flue nicking introduces controlled turbulence and tends to reduce chiff.
- Cut up must match frequency, pressure and air band thickness.
- Braking devices like ears, rolls, bridges, freins, or double languids enhance higher harmonics and enable lower cut up.