JoLi organ, music samples
Here a few samples of what the organ sounds like, using my arrangements of various Midis found on the 'net.
The 2004 recordings were taken with an artificial head microphone as described in my article 'Economical audio recording' and are coded in 56 kb/s mp3.
The 2005 recordings instead use a pair of large diaphragm condenser cardioid mikes (JJlabs C010B) and are 128 kb/s encoded. 'Rose garden' in a reverberating staircase hall, the following three in the more damped studio where the organ was built and resides. The late recordings include leading and trailing noises from the service machinery, starting with the click of the bellows motor circuit breaker, running up of the motor and the setting of register valves. After the music the motor is shut off and a final bang tells when blowing pressure is gone such that the bass drum beater slowly touches the drumskin.


Title

Composer

Duration

Size

Recorded

The lambs
John Philip Sousa
1'56"

0.80M
Feb 2004
Proshanie slavjanki (the cossack's farewell to his girl)

Vasili Agapkin
2'38"

1.05M

Feb 2004
I never promised you a rose garden
Lynn Anderson, 1971

3'04"

2.80M

Mar 2005
Michelle
John Lennon & Paul McCartney
2'54"

2.66M

Mar 2005
Jalousie

This is not the Gade tango.

Please tell me!



3'54"

3.57M

Mar 2005
Puttin' on the Ritz
Irving Berlin, 1930

2'13"

2.04M

Mar 2005
La Traviata, Ouverture


Giuseppe Verdi

3'19"

3.11M

Nov 2005

Carmen, Gypsy dance

Georges Bizet

3'07"

2.93M

May 2006

artificial reverb

Danse Macabre

Camille Saint-Saëns

6'38"

6.23M

May 2006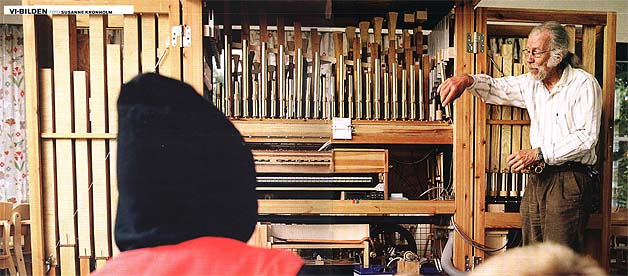 Playing for the kids at the Klastorp school in Stockholm. Photo by Susanne Kronholm for the magazine Vi, #20, 2004.