Now let us narrow the open end of the tube with an aperture, into a mouth area B, less than or equal to the tube area A. This means that we effectively remove the classical end correction and instead add the acoustic mass of a tube of area B. The physical length of this tube is essentially zero, but we have to add a new end correction for this one, indeed for both sides of its aperture. On the outside we can simply assume the same formula as before. Similarly might apply also to the inside of the aperture, but only when B is appreciably smaller than the tube A. With a growing aperture area such an internal end correction decreases to ultimately vanish when B reaches A. There are plausible models for this, but for the present we neglect any internal correction.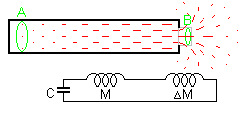 There is a paradox in that the basic correction formula for the B aperture alone gives a length that is smaller than for the original A. This might suggest the resonance frequency to rise because of the constriction, contrary to all observation. To resolve this we must go back to the circuit elements of the resonator. The capacitive element C (the elastic action of the resonator interior) is like before, unaffected by the aperture. But the inertive element M of the tube is augmented with the

M that comes in the aperture. When we compare the two as given above we get


The paradox is resolved by the fact, that when the area B is made smaller, then the additive

M becomes larger. Recognizing that for small deviations from 1, the square root in the frequency formula functions like

, we then finally arrive at




We would have appreciated when the coefficient in this result had rather been 0.34 , such that it complied with the original formula when B=A. But when we assume the mouth aperture to be partially baffled, that would correspond to a credible increase in the coefficient.


The importance of this theoretical derivation is to suggest that the end correction is basically proportional to tube area over square root of mouth area. It remains to find practical values for the proportionality factor, and how to specify resonator physical length.


The basic
relation was used as a direct value for the end correction by Ising (1969), apparently adopted from Ingerslev and Frobenius (1947).